Nestled in the Bay of Thailand, only a 7 hour bus ride and 6 hour ferry ride from Bangkok, you find paradise. Paradise for those who want to lay on the beach to those who desire a taste of adrenaline. Regardless, it's easy to spend a week on the small island.
Beaches
White sand, clear water, and a hot sun. You can choose which type of beach to lay on, from Sairee's crowded young beach, to Mango Bay's wealthy pampering beach, to Ao Leuk's secluded beach.
Snorkeling
For such a touristy island, the coral and marine life are still pretty well preserved. You can find a variety of colorful fish, sometimes friendly and sometimes nipping at your toes. Check out Tanote Bay (our favorite beach)!
Scuba Diving
Other than Honduras, Ko Tao has the cheapest has the cheapest diving and open water certification you can find. The course will run you about $250/person, including accommodation. It takes about 4 days and includes 4 dives in some of the most exotic waters.
Cliff Jumping 
Head to Tanote Bay, swim to the giant boulders sticking out from the water, climb up the rusty old chain, and jump the 20 ft. Repeat.
Hiking
One word: viewpoints. There are a variety of hikes that take to different peaks, all of which give a stunning view of the island. But do know that you have to pay for most of the views. Mango view (tough road to drive on or a 2km hike) costs $1.50 but gives two views and offers a restaurant/bar you can relax at. (Perfect sunset spot!) John Suwan Rock (10 minute walk) costs $1 for a view of the southern half of the island. Crack In the Rock (20 minute walk) for free gives a view of Sairee Beach.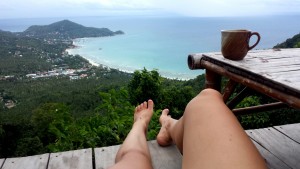 Scooters
Rent a scooter for about $4 a day and explore the island. Many roads lead to a dirt road filled with rocks and holes, perfect for some off-roading. But don't forget to drive on the left side of the road!
Off Shore Islands
Ko Tao is famous for its neighbor island, Ko Nang Yuan. It is the only place in the world you will find three islands connected by one stretch of beach. Note, however, it'll cost you a $3 ferry ride and a $3 entrance ticket.
Water Toys
Pick between kayaking and paddle boarding ($6/hour), both of which will take you out on the water for a unique view of the island. The calm bays make it easy to move around quick.
Thai Massage
Yes, a Thai massage IS an adventure. You lay down for the start to a relaxing hour long massage (a familiar massage), only to be stretched and pulled. Little old Thai ladies will climb all over your body pulling and stretching limbs, fingers, and toes. Maybe not relaxing, but you come out feeling good.
Ko Tao: Adventure Wonderland