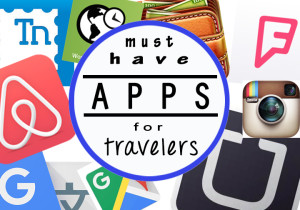 Traveling is a whole new game now that we have phones. It's easier to find where you need to go, easier to communicate, easier to plan your next steps or purchase your next flight. Phones make travel much easier and here are some apps that do too:
Google maps
Get to where you're going, fast. Whether you need it to find short cuts through the narrow Italian streets, to point out the location of your hotel to the Brazilian taxi driver, or to navigate the Thai roads on your scooter.
(Or use google maps to plan your vacation. Click on the link to see how)
Yonder
If you're looking for something to do in an areas, search through Yonder's database of over 20,000 destinations, 25 activities, and geo-located images around the globe to find what suits your interest.
Air Bnb
Hotels can be expensive. Instead, find unique accommodations at a good price. And because it works on a rating system, it's guaranteed to be clean, comfortable, and safe.
Hostel World/Hostel Bookers
Book hostel accommodation anywhere in the world. If you're a solo traveler, it's the cheapest form of accommodation, and a great way to meet other travelers.
Couch Surfing
Stay with locals anywhere in the world. This is a great app to find accommodation, but more importantly to meet and stay with locals with whom you can share travel experiences.
Instagram
Use this social networking site to find the places you want to visit. Simply search by hashtagging a place (ie. Australia, Gold Coast, Surfers Paradise) to find what other people have done and what they have enjoyed. Then go find those place. They're basically doing the homework for you.
Meetup
Find a variety of groups in a local area to meet locals, have fun, and to discover a place in a new and unique way.
Would You Rather…
A game with fun and creative "would you rather" questions to lighten up quite moments with other travelers, and to help time go faster on those long bus rides.
XE Currency
Get a currency converter with charts and live rates that are stored for offline use. This will save you a whole lot of headache later on.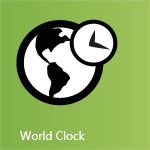 World Clock
Find local time and time zone information for thousands of cities around the world. No more worrying about waking your family when you want to Skype, you'll know instantly.
One Note
This is your digital notebook for capturing what's important during your trip. Whether its to quickly jot down a locals recommendations, or to keep a list of must-do's and have-done's.
 Spending Tracker
If budgeting is an issue while traveling (and it usually is), use an app to track your expenses, stick to a budget, and save money.
Uber
Get a quick ride with a push of a button. It's easy and often cheaper than a taxi.
Foursquare
Get access to the world's largest collection of insider tips. Whether you're looking where to eat, drink, shop, or visit, this collection of 60 million reviews in cities all over the world will help you have a smooth visit.
Wi-fi Finder
To avoid paying high international data fees, access the app to be directed to the nearest wifi. It includes free and paid wifi location in 144 countries worldwide.
Google Translate
To communicate with locals or just to navigate your way through a city. Speak, scan, type, or draw to translate in 90 languages. You can even use your camera to translate text!
Touchnote
Share your travels and experiences in a more personable way. With just a few clicks, transform one of your pictures into a postcard with a personalized message and send to family and friends.
Must Have Apps for Travelers