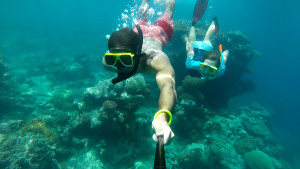 There are many ways to experience the Great Barrier Reef. I will share with you the cheapest way, the worse places to go, and the best places for an amazing experience.
The Cheapest Way

If you are on a budget and want to snorkel the Great Barrier Reef, the cheapest option is to go to Cairns and take a day tour. We spent $99 which covered the boat ride, a fruit breakfast with tea and coffee, snorkeling gear, two snorkel locations, and a BBQ lunch followed by cheese and wine. This option is normally on a slow boat which takes about 2-2.5 hours to arrive to the reef depend on which reef you go to.
The Worse Reefs/Islands


There are many reefs or islands that tour companies go to everyday, thus making the reef site not as amazing as others due to a lot of traffic and/or damaged reef.
Green Island is one of those places that is not good for diving or snorkeling but rather is a place for beach activities and resort relaxation.
Fitzer Island is another place to avoid unless you want the resort experience.
Breaking Patches is not a good place to see the reef unless your tour company goes to the Wildside, which is beautiful.
The Whitsundays – I have two friends who currently went to the Whitsundays and said they did not see much wild life or vibrant colors. Plus, it is very expensive.
The Best Reefs  


These reefs are in no particular order. There are many reasons why these reefs are better than the others: further away from land, more untouched, warm currents, different animals, different coral life, etc.
Norman Reef – Wildside & East Side can be a 1.5 hour to 2.5 boat ride depending on the boat. At this reef we saw three sharks!
Hasting Saxton is also a good reef to explore if your tour company goes to it for snorkelling.
Escape Reef is one of the best places for diving.
Ribbon Reef #3 and #9 – The local divers all agree that these two places are the top picks for diving the Great Barrier Reef. They are far away which means a lot of time and money. But if diving is your thing then it will be worth it.
Escape Reef – Another great dive site.
Weather & Jellyfish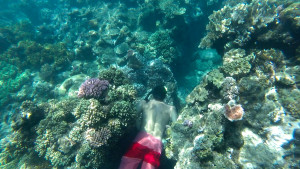 If the weather is Cairns looks bad, chances are that the weather over the reef will be just fine. Jellyfish are mostly dangerous on the beaches and dont find themeselves often around the reefs. Unless, the crew of tour company tells you many people were stung over the past week, there is no need to rent a suit.
In a Nutshell

You can pay $99 to see the reef plus $45 to dive which is a heck of a deal. Check out Compass Tours.
Some people pay $199-$249 but that extra cost is mostly for an extra 2 hours at the reef because they go by a faster ferry and a full breakfast.
The Best Way to See the Great Barrier Reef